Tillamook Rock, affectionately (?!) known as "Terrible Tilly" is a deactivated lighthouse that sits 1.2 miles offshore from Tillamook Head off the Oregon coast. It covers an area less than an acre and is one inhospitable pile of basalt rock.  The lighthouse was commissioned in 1878 and finished in January 1881.  It took 500 days to finish; the workers labored under the most hazardous and perilous of conditions. It would be the most expensive lighthouse built to date. There is no amount of money that would induce me to have undertaken that job!  It shows what lengths workers would and will go to earn an honest living.  Kudos to them.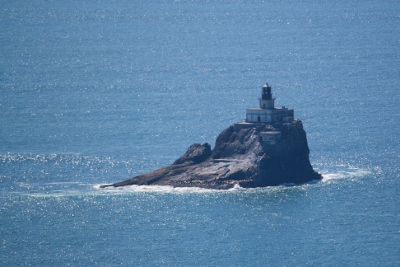 Photo by:  Abhinaba Basu of Redmond, WA

Just as the lighthouse was nearing completion, a terrible storm hit, and the barque Lupatia, en route from Japan and under the command of a less than experienced captain, was wrecked upon the rocky shoals. All hands perished.  The only "crew member" to survive was the dog who swam to the island.  The workmen took it upon themselves, at great risk, to rescue the bodies from the wreckage and surrounding waters, bring them to shore, and bury them.
An heroic act of Mercy. 
The lighthouse would officially open for business and be lit for the first time 19 days after that event, on January 21, 1881.  Over the years, the light's keepers and suppliers, as a result of the terrible weather and dangerous commutes to which they were subjected, dubbed Tillamook Rock Light "Terrible Tilly".  The light was decommissioned in 1957, is privately owned (not by me!!) and is on the National Register of Historic Places.  It is also part of the Oregon Islands National Wildlife Refuge.
Details of the Light's tragic beginnings and the wreck of the Lupatia can be seen at the below link ... posted by the Cannon Beach History Center and Museum:
https://cbhistory.wordpress.com/2013/01/06/a-tragic-beginning-for-terrible-tilly/
Anybody have any stories relative to the history of "Tilly" (or any visits to it!) they'd like to share.  We'd love to hear them!